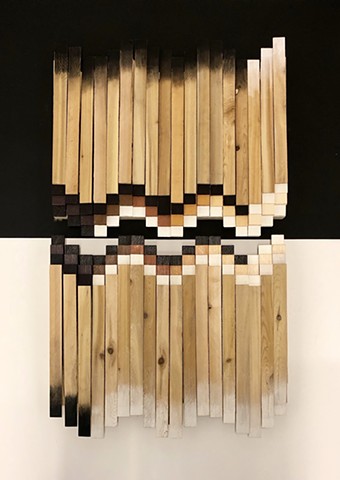 Leslie Berns is an interdisciplinary artist known for works in which geometric abstractions incorporate social, environmental and organic figurative elements. Her work ranges from mixed-media paintings and sculptures of wood, paper, cloth and metal to performance and video. Recent wood reliefs and works on paper reference a personal exploration of multi-generationally-mixed experience and identity in relation to historical, social constructions of race and elaborate calculations of "color".
Born in Buffalo, New York, raised there and in southern California, she earned an MFA in painting from Yale University and a BFA from Pratt Institute, also in painting. Her work has been exhibited nationally and in Germany where she lived from 1994-1999.
Berns is a Lecturer in Drawing and Painting at the University of Maryland College Park and lives and works in the Washington, D.C. Metro area.