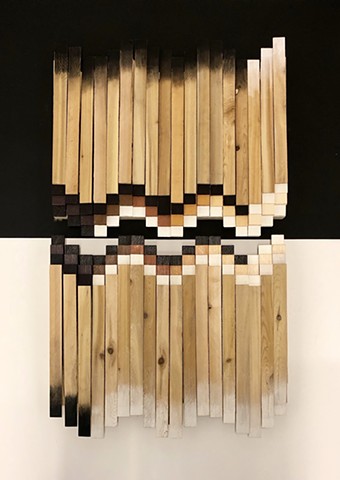 Born in Buffalo, New York, raised there and in southern California, as an interdisciplinary artist I explore transformations of form in space and time. My work ranges from mixed-media paintings and sculptures of wood, paper, cloth and metal to performance and video in which geometric abstractions incorporate social, environmental and organic figurative elements. In recent book art objects, wood reliefs and works on paper I explore forms of visual and written memoir that look at mixed racial identity in critical relation to Caribbean and American historical, social constructions of race. I earned an MFA in painting from the Yale School of Art and Architecture and a BFA from Pratt Institute, also in painting.
Recently I participated in an "online experiment in language and form" through a virtual residency with Arts, Letters & Numbers located in Averill Park, NY. I've exhibited work at the Washington Project for the Arts Auction Gala, Cultural DC Flashpoint Gallery, Smith Center for Healing and the Arts, Pyramid Atlantic Art Center, et. Al. As part of the Washington Project for the Arts Experimental Media Series (2011), my video performance, Grounding, was selected for a screening at the Hirshhorn Museum. In Germany, the Deutsch-Amerikanisches Institut presented Threshold, a collaboratively choreographed, outdoor performance installation sited among the ruins of Heidelberg's Castle Garden, above which I lived for five and a half years (1994-1999) with my husband and two children.
A Senior Lecturer at the University of Maryland College Park, I have taught courses in Art Theory, Two-Dimensional Design, Drawing and Painting since 2007. Previously I taught at the Maryland Institute College of Art (Baltimore), American University (Washington, D.C.), the University of Maryland University College (Heidelberg, Germany), and Parsons School of Design (New York). Since 1999 I've lived and worked in the Washington, D.C. Metro area.